Are you not receiving responses from landlords? And have you still not been invited to view a property?
We understand that it can be frustrating not to get enough feedback, even though you've contacted a lot of landlords. House hunting can be competitive, and many landlords receive numerous messages from prospective tenants.
However, there are several things you can do to increase your chances of getting landlords to read and respond to your messages – ultimately improving your odds of being selected as a tenant.

Good advice for searching for a home on BoligPortal

Think of house hunting like job searching - 'Hi. I'm interested' probably won't get you the 'job'

Understand that you're most likely not the only prospective tenant applying for the property

Write a thorough and interesting application that gives an impression of who you are as a tenant

Highlight things about yourself that describe who you are, such as special interests or fun facts

Fill out your user profile thoroughly – landlords use them to sort through inquiries

Choose a profile picture that represents you well and makes a good impression

Understand that landlords may not always be able to respond immediately. They might be busy or dealing with multiple inquiries. Be patient and give them some time to reply.

Read more below, where we elaborate on the various points and provide tips for your apartment search.
Think of your apartment search a bit like a job application.
Just like employers, many landlords are actively looking for the right candidate for their rental property – someone who meets their desires and requirements for a prospective tenant.
Landlords often start by contacting applicants who make a good first impression. So, a well-detailed self-description significantly improves your chances. Messages without descriptions or ones like "Hi. I'm interested!" or "When can I see the property?" often end up at the bottom of the pile.

When you send a message to a landlord through BoligPortal, your message will appear like this to the landlord: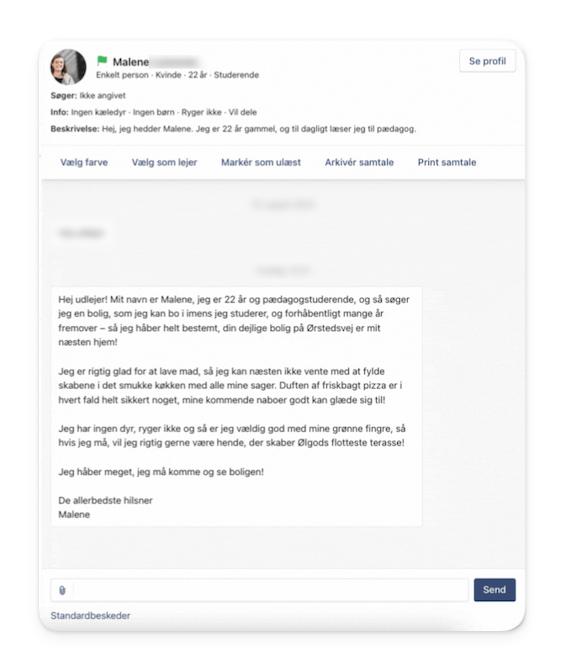 So, landlords see both your message – the one you fill out when you click 'Contact' on an ad – and your search profile – the one you fill out with a picture and a description.
That's why it's a great idea to put effort into both and not just copy your profile text into your message to the landlord.

How do I create a good search profile?

Your search profile functions a bit like a resume. It quickly provides landlords with an overview of whether you fit their preferences. Many landlords start their tenant search by sorting applicants based on the information provided in their search profile. Therefore, you might risk being excluded even if you match the landlord's preferences because you haven't filled out your profile.
You can fill out your profile by clicking on your name and profile picture in the upper right corner on the boligportal website or by clicking on 'Min profil' > 'Redigér din profil' in the bottom left corner on the BoligPortal App (available in Danish).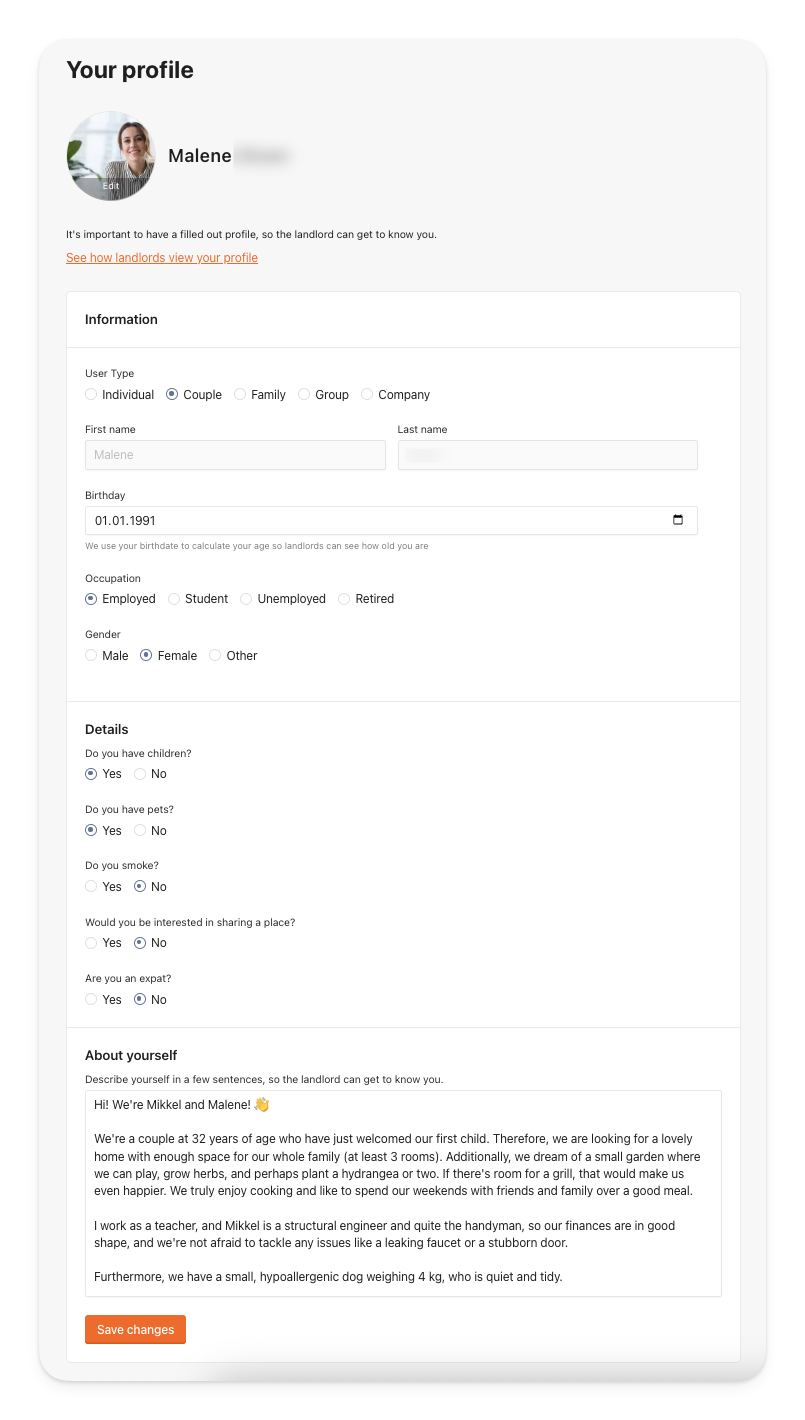 Tell a bit about who you are, what you do in your daily life, and how you spend your free time. Landlords often have busy schedules, so keep it short but interesting. Ask yourself if your profile text accurately describes you, if it's engaging, and if it can be made shorter.
An example of a shorter version of the above profile text could look like this: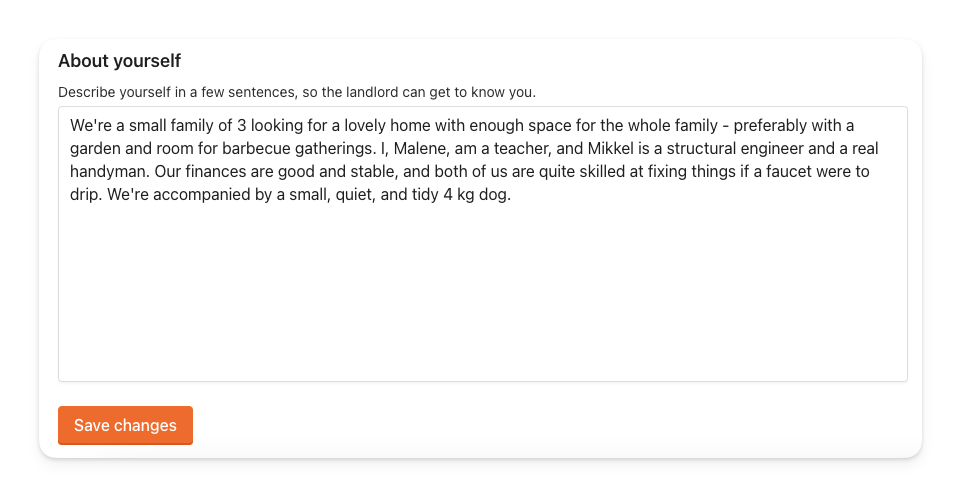 Remember that there's no right or wrong way to be a housing applicant. Some landlords actively seek younger individuals, while others prefer established families or seniors.
Do you have pets?
If you check the pet box, we recommend you provide some information about the type of pet you have, how many, and how they fit into your daily life. Many landlords are okay with pets in their rental units, but they might have specific requirements regarding the number, size, and so on.
How do I write a good application message to the landlord?
When you click 'Contact' on an ad, you get the opportunity to send the landlord a message. It can be tempting to send something quickly, but the more effort you put into this message, the greater the chances of being invited to a viewing.
There is no fixed recipe for a good application message, but consider the following:
Why are you specifically interested in that rental?
What is your current occupation, job, or study situation?
How long do you plan to stay?
What kind of tenant are you?
What are your interests or how do you spend your time?
Relate to the specific housing you are applying for in your message. Is it the location, garden, architectural style, laundry room, size, herringbone floors, or something else that you dream about? Include a few words about it.
Keep it short and interesting.
Many landlords receive numerous messages, so try to keep it concise (but not too short) and captivating.
Especially in larger cities or popular areas, it can be an advantage to try to stand out.
Do you play an unusual instrument or engage in a unique sport? A small extra detail about yourself can make the landlord remember you over other prospective tenants.
However, avoid clichés such as being responsible, calm, mature, and the like.
At BoligPortal, we've seen many excellent applications that landlords are thrilled with!
If your housing search has stalled, you're always welcome to contact customer service if you want specific tips and advice on how to improve your application process.
Visit BoligPortal's Blog (in Danish) for more advice on the application process.