At BoligPortal, it's easy and efficient for you to find your next dream rental property.
In this article, we'll guide you through everything you need to know to get started – including how to create a user account on BoligPortal, find relevant properties, and establish contact with potential landlords.
In this article
How to create a user account and purchase a subscription
To utilize all our tools as a property seeker – such as saving your searches and receiving notifications about new properties – you need to create a free profile. To contact landlords, you need an active subscription.
Press the 'Contact' button on a rental listing


Choose the subscription plan and payment method you prefer
All our subscriptions are non binding, with automatic renewal. You can cancel the agreement anytime within the ongoing payment period.


Then, fill in your profile information and accept BoligPortal's terms
Optionally, you can also sign up for our newsletter and service emails, packed with information and useful tips for your housing search.


Note: If you're using BoligPortal's app on Android or iPhone, you should purchase the subscription through the App Store or Google Play.


How to search for a rental property on BoligPortal
For the best experience, we recommend that you are logged into your user profile when searching for properties on BoligPortal.
Enter the postal code or city in the search field, or choose the desired property type under 'Categories' on the front page of BoligPortal.


Filter and sort your search in the left column
The more specific your search is, the more relevant results you will see.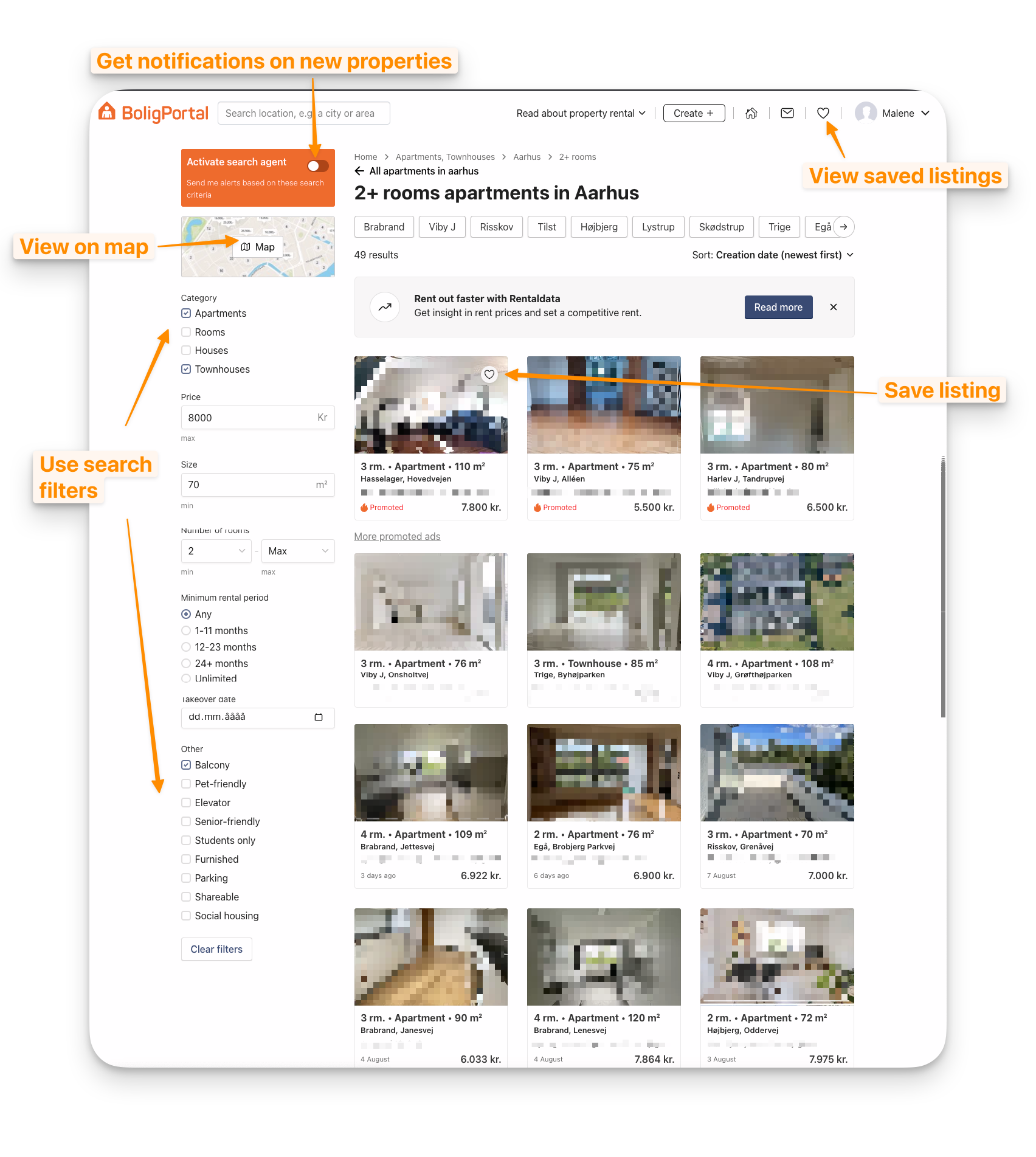 How to receive notifications about new properties via Search Agent
We always recommend our property seekers to save their searches as a Search Agent. This way, you'll automatically receive an email whenever a new property matching your search criteria is listed on BoligPortal.
You can create a Search Agent by clicking 'Activate Search Agent' in your search results, as shown in the image above.
You can access your Search Agents by clicking on your profile picture in the top right corner and then selecting 'Search Agents'. Here, you can view, extend, or delete your Search Agents. You can save as many Search Agents as you'd like.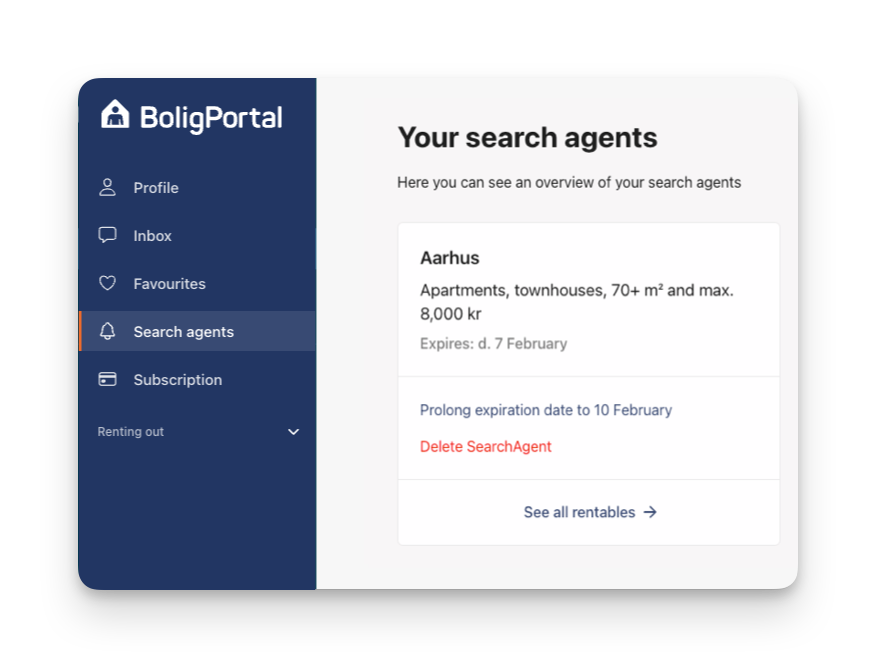 How to contact a landlord on BoligPortal
Click on the 'Contact' button on the property listing you're interested in to send a message to the landlord.
We strongly recommend putting effort into sending a good and comprehensive application. The better your message, the greater the chance of being invited for a viewing and being chosen as a tenant.
Find useful tips for your housing application here.
If the landlord has provided a phone number in the property listing, it will also be displayed here.