When creating a housing ad on BoligPortal, we can never guarantee the amount of interest from potential tenants – but we find that the most popular ads are the most comprehensive.
Therefore, there are many things you can do to maximize your chances of attracting significant interest and stand out, so you can quickly rent out your property.
In this guide, we'll go into more detail on how you can achieve this.


Add good, bright, and representative photos
Good photos sell the product. Therefore, we recommend that you make an effort to take some good photos in daylight and in good quality.
You can use your mobile phone
If you don't have the opportunity to take professional photos, pictures taken with your phone can also be used as long as they are bright and clear.
Here, we strongly recommend that you only take pictures in daylight, avoid using flash, avoid taking pictures against the light, remember to clean the lens, and increase the brightness. This provides the best mobile photos.
Take pictures of the entire property and insert them in chronological order
By taking good pictures of the entire rental property and adding them to your ad in chronological order, potential tenants get a more realistic sense of the property and its layout.
Place the best picture first
The picture that appears first in the ad is what will entice potential tenants to click on your ad. Therefore, make sure that the best picture of the property's best room is placed first.

Write an exciting title focusing on the unique aspects
Along with your primary ad photo, your title is the first thing potential tenants see in their search results. Therefore, make an effort to write a title that stands out and is appealing.
Highlight some particularly good aspects of your rental property in your title – for example:
"Spacious studio apartment close to the university and city center"
"Bright townhouse with a large garden and shared playground"
"Newly renovated attic apartment 800m from the shopping street"
"Charming townhouse with a south-facing courtyard, close to the forest and beach"
"Shareable attic apartment with a new kitchen and laundry"
"Large and bright room with a private balcony"
Avoid repetitions
When your property listing is on BoligPortal, the size, type, and square footage of the lease will automatically be displayed just below the listing image. Therefore, try to avoid repeating this information in your title. A title like "2-room apartment of 55 sqm" would not be ideal, as this information is already present in the listing.
Your title appears below the basic information of your lease in the advertisement, as shown in the image below.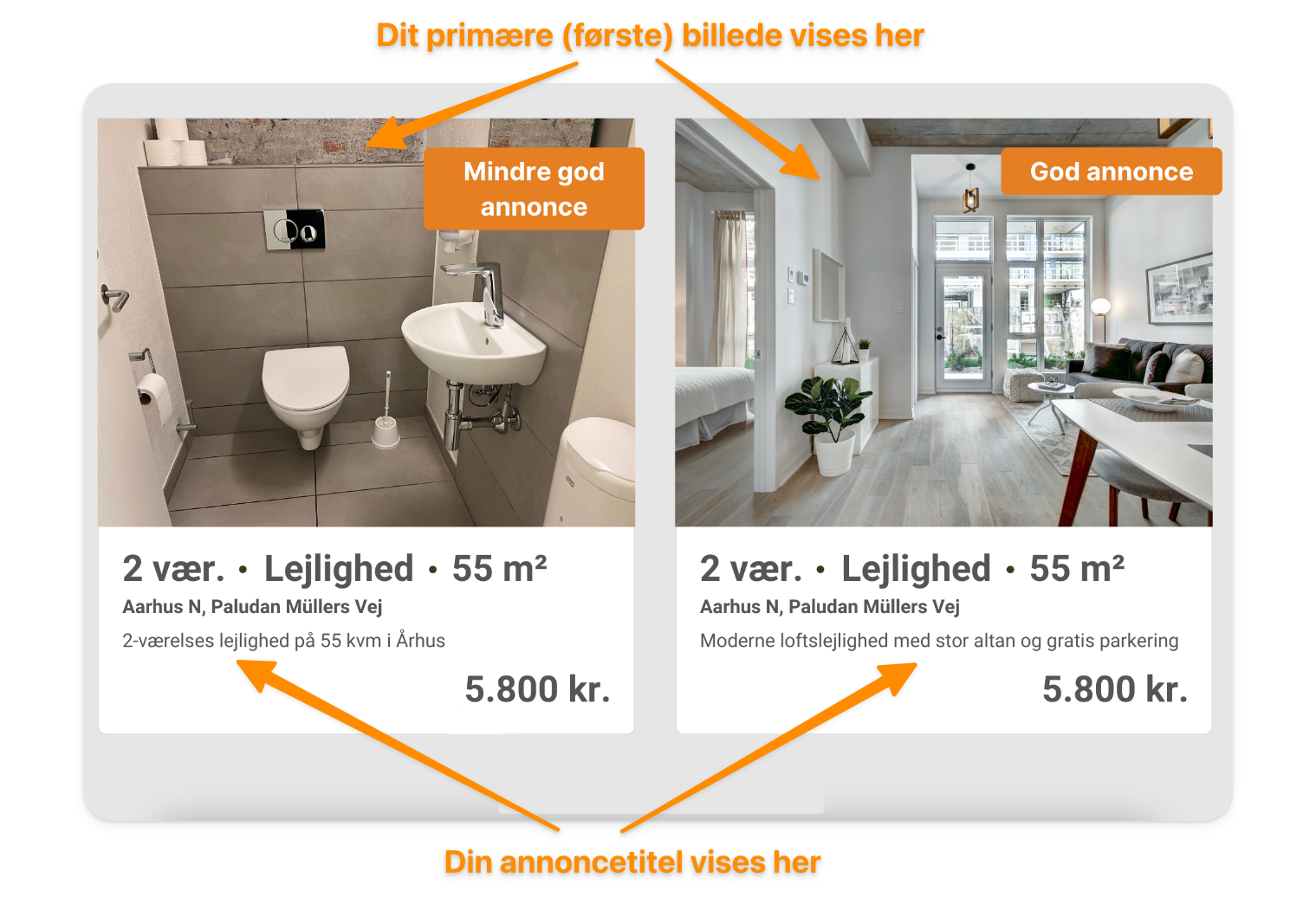 Write a comprehensive and interesting listing description
Just like with the listing title, the description of the rental property is crucial for the interest you will attract.
Prospective tenants often have many questions, so the more information you provide in your description, the better.
Elaborate on the type of property, amenities, and features.
Describe the special features of the property – including those you have checked in the overview – and possibly elaborate more on those that need clarification.
Highlight the particularly positive aspects.
If your rental, for example, has a south-facing balcony, herringbone floors, built-in closets, or a dishwasher, it can be especially attractive to many prospective tenants.
Describe the area where the property is located.
We also recommend to describe the location of the property to stand out – for example, if your rental is located close to popular cultural sites, beautiful nature, or with a short distance to attractive educational or childcare institutions.
Example of a good ad description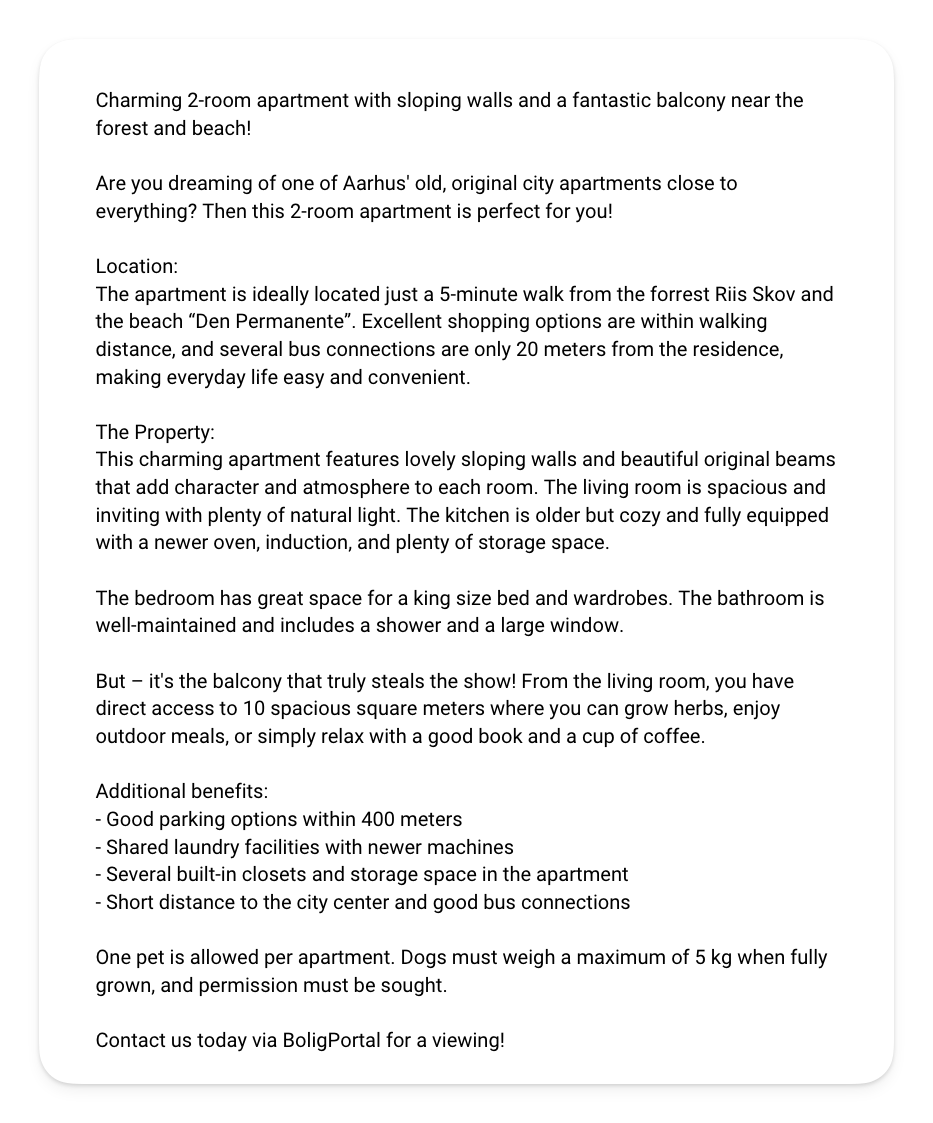 Respond to inquiries quickly and thoroughly
Unless you have purchased the Open Listing promotion option, property seekers pay to contact you on BoligPortal. Therefore, it is crucial for their experience of you as a landlord that you respond to their messages.
If you receive a large number of messages, it can be beneficial to create a message template where you thank the prospective tenant for their interest and inform them that you have received their message, promising to get back to them if they are invited for a viewing.
A message template, or standard message as it is called, allows you to respond to multiple people at once with a pre-written text of your choosing.
If interest is declining, you can always purchase a promotion
At BoligPortal, it is free for you to advertise your property. However, you can always purchase various promotion packages if you want to expedite the process.
If you need assistance, you can contact us here every day – we're always ready to provide good advice for your property advertising.