You can easily answer multiple messages from tenants at once, for example by sending a general invitation to a viewing or by marking multiple tenants that do not fit your prerequisites for the rentable and send them a rejection.
You can always use the filter on the top left of the conversation list, to sort between tenants you wish to send the message to. Mark the conversations that you wish to send a message to by clicking the little white box shown on the indiviual conversations in the list.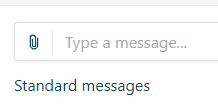 You can see how many tenants you have selected on the right side of the screen. To send your message, simply enter your text in the bottom and click Send when you are done.
Your reply will still be shown in the individual conversation and the tenants will not be able to see that you have sent the same message to multiple tenants.
Remember that you can always use standard messages to quickly send general replies across all conversations.