You can set up an open house event for your rental ad using the 'Open House' feature on BoligPortal. Then you allow the property seekers to contact you for registration.
Create an open house by clicking on the specific address under Advertised rentables. Scoll down the page until you see Invite to open house. Click on + Create open house event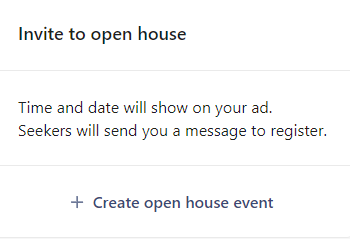 Select date, start time and end time and finish by clicking Create. On your ad tenenat will be asked to contact you directly in order to register for the open house.
*It is important that you remember to inform them about the full address.
If you have had enough applicants for an open house you simply delete the Open house function.
Remember to notify the property seekers if the event is canceled or changed.
Property seekers with an active subscription will see an 'Open House' banner on your ad. The banner will inform them that they need to contact you for further information.
Your ad will again be visible for new property seekers.