A moving inspection – also known as a move-in or move-out report – is a process where a landlord and tenant together inspect a rental property to record its condition and any damages or deficiencies before or after the rental period.
The purpose of a moving inspection is to document the state of the property at a specific point in time, in order to prevent disagreements or disputes regarding damages that may have occurred during the rental period.

Is a moving inspection legally mandatory?
If you're renting
out one property

When renting out a single property, you're not legally obligated to conduct a moveing inspection. However, upon your tenant's move-out, you must communicate any claims for repairs within 14 days – failing which, you lose the right to demand that the tenant covers any rectification of faults and deficiencies.

If you're renting
out more that one
property

When renting out two or more properties, according to the Danish Tenancy Law (Lejeloven), you are always obligated to conduct moving inspections – both upon move-in and move-out. The move-out inspection must be carried out no later than 14 days after the tenant's departure.

You're also required to invite the tenant in writing to the inspection with at least one week's notice – otherwise, you risk losing the opportunity to have the tenant cover the costs of rectifying the faults and deficiencies they are responsible for.
At BoligPortal, we always recommend conducting moving inspections – regardless of the size of your rental business. That's why we offer a free tool for digital moving reports, ensuring your peace of mind.
How does a moving inspection work?
During a moving inspection, the landlord and tenant typically walk through the property and inspect the entire rental unit. Any existing damages or deficiencies will be noted and documented with photographs. This includes everything from wear and tear to minor scratches, as well as more significant issues like paint peeling, damaged appliances, or other faults.
Once the moving inspection is completed, the findings are documented in a written report that provides a detailed description of the condition of each part of the property. Both parties sign this report to confirm their agreement on the property's condition upon move-in or move-out.
With BoligPortal's digital move-in inspection app, both landlords and tenants can report issues and conditions across all rooms and facilities, documenting everything digitally with photos. All the information is compiled into a valid report, which is signed and stored digitally.
Why is moving inspections important?
Moving inspections are important to protect both the interests of the landlord and the tenant.
During move-in, it ensures that the tenant isn't held responsible for damages that were already present before they moved in.
Upon move-out, it enables the landlord to assess any new damages that need repairs and make a decision about potential deductions from the security deposit to cover the costs of those repairs.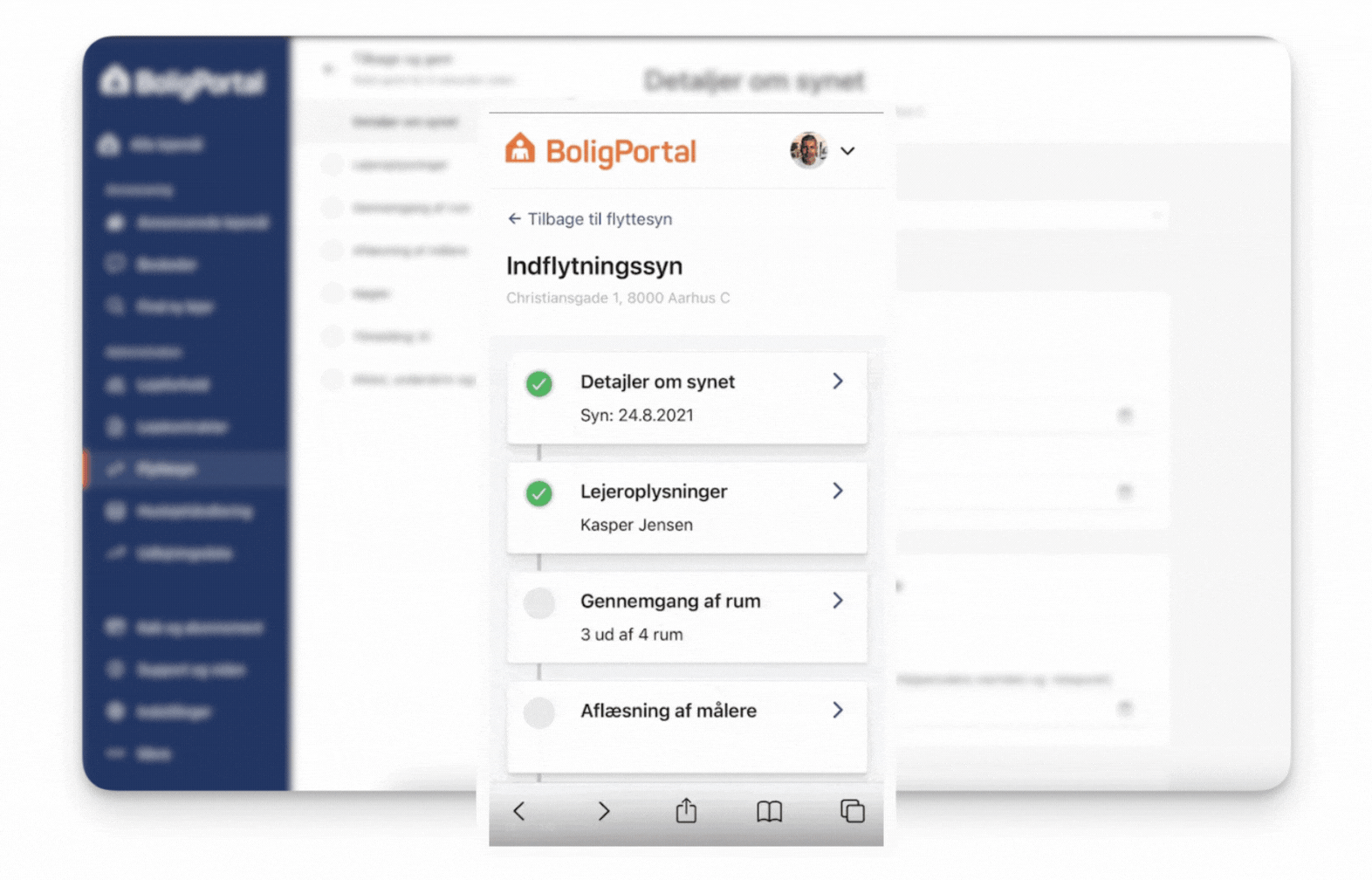 Note: The content on this page should not be considered as legal advice.
If you require legal or financial assistance, you should consult with a qualified lawyer, accountant, or financial advisor.