Utilities – or A conto or A/C, as it is also called – in connection with rent is a fixed monthly payment for utilities that you, as a tenant, must pay in addition to the agreed rent if it is specified in your rental contract.
The a conto amount helps create predictability in your expenses as a tenant and ensures that the necessary expenses for your consumption are covered.
On the property listings on BoligPortal, you will find the a conto amount listed right next to the rental price. Additionally, there is often a description of what the aconto amount covers in the corresponding ad text.
If nothing is specified in the aconto field, it often means that you will have to handle the utility subscriptions yourself.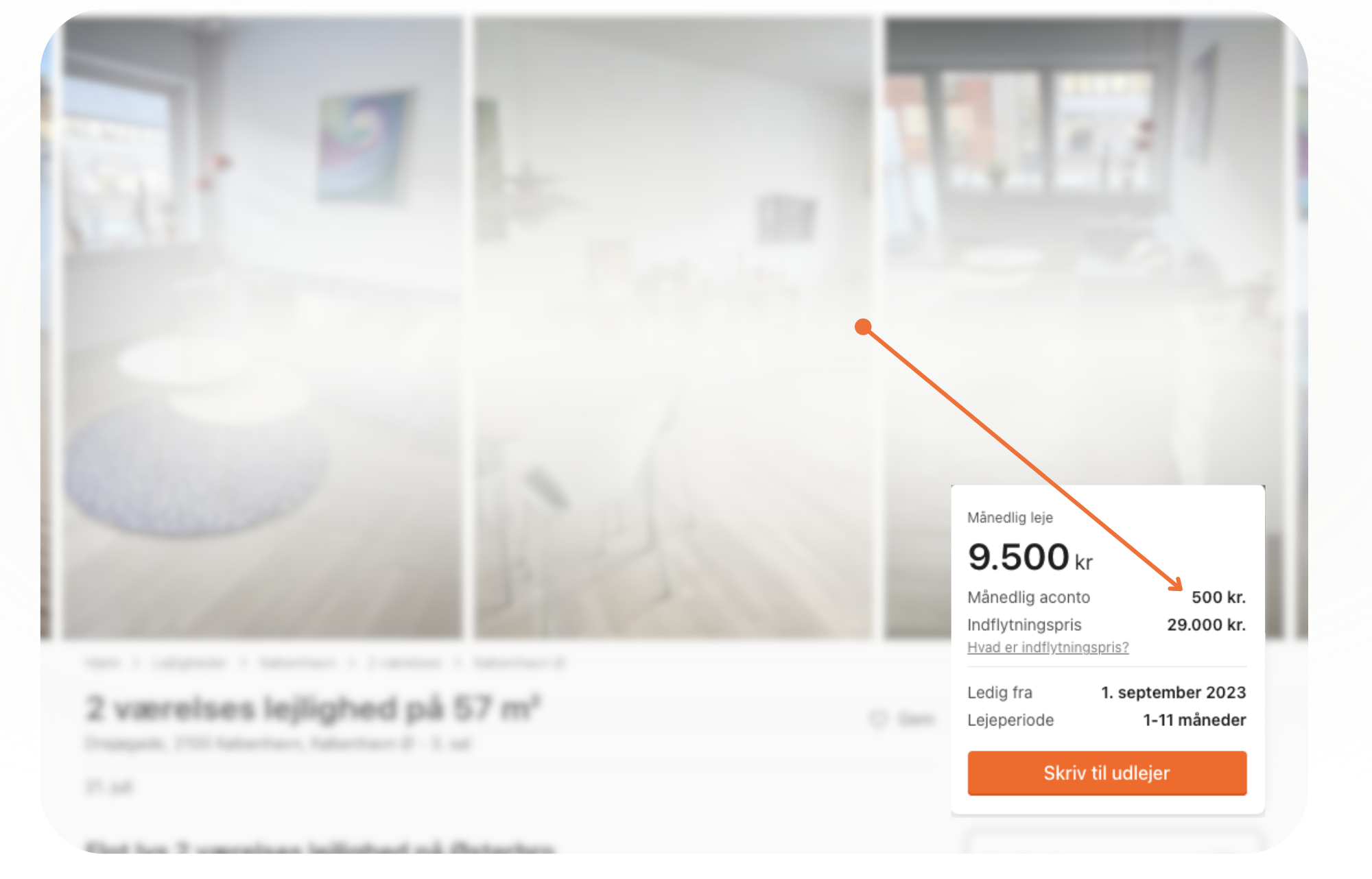 What does the aconto amount cover?
The aconto amount typically covers your utility expenses in the rental unit. It usually includes water and heating costs paid in advance. In some cases, the landlord may also choose to include electricity and, for example, internet as part of the aconto amount.
You can always see what you are paying as aconto in your lease agreement.
How is the aconto amount determined??
The aconto amount is calculated by your landlord based on an expected average consumption, based on previous years' usage or estimates for the rental unit - for example, based on the previous tenant's actual consumption.
This means that you pay a fixed amount every month, regardless of the actual consumption.
What happens if my consumption changes?
There can be many reasons to changes. If your partner moves in, or your child leaves the nest, your total consumption could easily increase or decrease.
Your aconto payment does not change from month to month if your consumption changes. A conto is an estimated advance payment based on previous years' consumption, not a monthly settlement.
If your consumption changes during the year, it will be adjusted during the annual settlement made by your landlord.
If your consumption has decreased - meaning you have paid more than you actually used - your landlord will refund the difference to you.
If your consumption has increased - meaning you have paid less than you actually used - your landlord will charge an amount covering the difference.
If your consumption matches the amount you have paid, nothing will happen, of course.
Can the landlord change the aconto amount?
Yes, your landlord has the right to adjust the amount during the annual consumption settlement. If your landlord finds that the amount is too high or too low, they can change the monthly aconto amount you pay. The adjustment must be notified six weeks in advance.
Can BoligPortal help me if I have questions about my utility payment?
If you have questions about your a conto payment, you should contact your landlord.