If you by accident have deleted a month's rent or regret your deletion, you will have to stop the complete rent collection and start it again. Unfortunately, it is not possible to make single payments through BoligPortal.
1. You can remove the rent collection by going to Rent under the relevant tenancy or by clicking on Rent in the blue sidebar and choose the tenancy in the overview of Coming payments. Here you have to click on Stop collection of rent.
Under the point Choose when the tenant have to pay the last rent you choose the forthcoming payment and click on Stop collection of rent.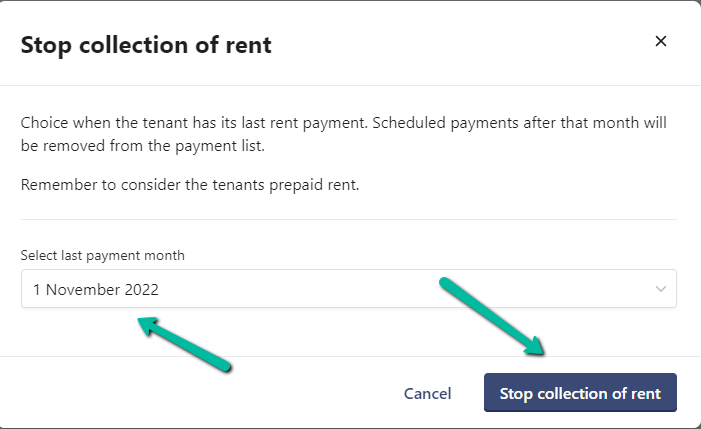 When the rent collection is stopped you will have a RED information box in your rent overview. This will inform you that the collection of rent is stopped.
1.2. You now have to start the rent collection again. You do this by clicking on Start rent again.

Here you can make sure that all information is correct and just state the following month after the one you stated, when you stopped the collection.
In this case the last payment is set to be November1st 2022. Therefore, when the rent collection is started again the first payment should be December 1st 2022.
2. If you by mistake have removed the complete rent collection, you need to click on Start rent again, make sure the information is correct and click on Save rent setup...
Remember to secure that the new rent collection is running from the right date, so that you collect the rent correctly from the tenant.
*Be aware that your tenant has to sign up for the payment through MobilePay again, when you start the rent collection again.