If your tenant rejects the payment of rent for one month, you will receive a message on e-mail or SMS (if this is chosen). It will also appear in your overview of the rent of the tenancy.

The payment agreement will still be active, and MobilePay will continue to withdraw future rent payments, but will not try to collect the only rejected payment again.
If the tenant rejects the payment in MobilePay, you therefore have to arrange another type of payment (e.g. bank transfer) with the tenant.
When your tenant has paid the rent manually to you, you just mark the payment as paid in the Payment summary.

It is important that you are sure that the tenant has transferred the rent manually to you before you mark the payment as Paid.
When the payment is marked as paid, it will appear in your Payment summary that the payment is paid manually.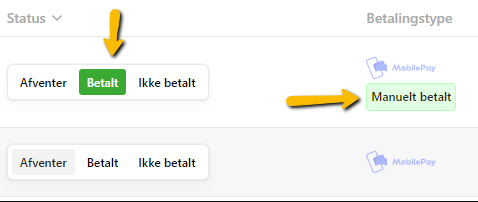 *Future payments will continue to be collected automatically through BoligPortal.