This is an article about BoligPortal's free service for conducting and managing moving inspection reports, which is currently available in Danish. Therefore, images and some phrasing in this guide may appear in Danish.
If you have any questions or need assistance with your moving inspection reports, you're always welcome to contact BoligPortal's Customer Service.
When conducting a moving inspection, we recommend that both the landlord (or a representative) and the tenant are physically present.
This allows all parties to sign and influence how the following report is prepared, ensuring that everything is done in accordance with the interests of both the landlord and the tenant.
If the tenant cannot be physically present at the moving inspection, we also recommend that another person participates in the inspection on behalf of the tenant.
If the tenant sends a representative on their behalf
If the tenant is represented by someone else, such as a friend, parent, or legal representative, that person needs to bring bring a power of attorney document signed by the tenant, authorizing them to participate in the inspection and sign the report on their behalf.
When filling out the moving report, proceed as usual. When you reach the section for tenant information 'Lejeroplysninger', select the option "Repræsenteres af fuldmagtshaver' (Represented by an attorney-in-fact).
Then, provide the attorney-in-fact's information and attach an image of the power of attorney document by clicking "+ Tilføj billede".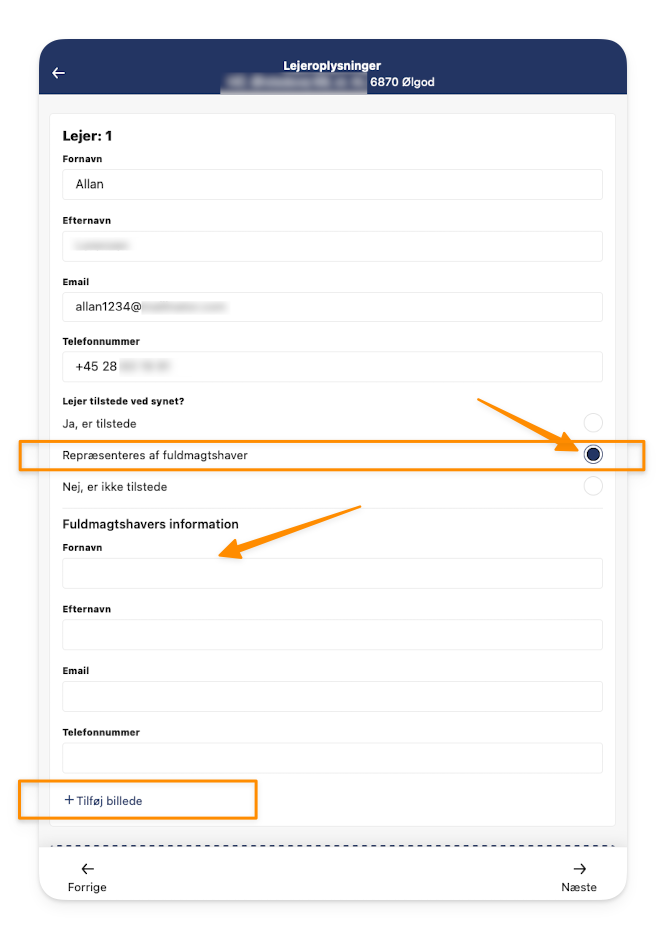 Once the inspection is completed, the attorney-in-fact will receive the inspection report via SMS and email. They can confirm receipt by signing it in the same manner as the tenant.


If the tenant is not present and does not send a representative
If neither the tenant nor a representative is present during the moving inspection, you should instead select the option 'Nej, er ikke tilstede' (No, tenant is not present) in the field 'Er lejer tilstede ved flyttesynet?' (Is the tenant present during the move-in inspection?).

Afterward, the signature field for the tenant under the 'Afslut, underskriv og send' (Finish, sign, and send) section will be marked with the text "Lejer er ikke til stede" (Tenant is not present).
As soon as the landlord has signed the report – that is, before clicking 'Send og afslut' – the tenant will receive an SMS and an email with a copy of the report. The tenant should click on the link in the message, as this generates a note in the report indicating that the tenant has received the report.