This is an article about BoligPortal's free service for conducting and managing moving inspection reports, which is currently available in Danish. Therefore, images and some phrasing in this guide may appear in Danish.
If you have any questions or need assistance with your moving inspection reports, you're always welcome to contact BoligPortal's Customer Service.
In BoligPortal's Moving Inspection App, you can easily image-document all defects and issues. This creates security for both you and your tenant, reducing the risk of misunderstandings or disagreements.
There is no limit to the number of images you can attach to your moving report when conducting a move-in or move-out inspection through BoligPortal's app or website.
How to add and edit one or more images in BoligPortal's Moving Inspection App:
You add images to an error or damage note when creating defects and deficiencies in the app.


Click on '+ Tilføj billede' (Add photo) within the unit where you want to create a damage note


Take photos with your camera or add them from the photo library
Your phone or tablet's camera will automatically open when you click '+ Tilføj billede'



→ Add more photos: You can add multiple photos to the same damage by clicking the plus icon (+) – for example, if you want to document a damage from different angles. You can add as many additional photos as you want.

→ Add photos from your photo library: You can add photos from your camera roll by clicking 'Galleri' in the bottom left corner. Then select the photo(s) you want to add and press 'Tilføj' (Add).

→Draw or add annotations to your photo: You can draw directly on the photo, for example, if there are damages that are hard to see, by clicking the brush icon in the bottom left corner.



Once you have taken the photos you want to add to the error, click 'Tilføj alle' (Add all)
All the photos will now be added to the same damage.


Finish by clicking 'Opret fejl' (Create error)
The error will now be created with all the added photos. If you need to delete some of the photos, simply click on the trash can icon next to the respective photo.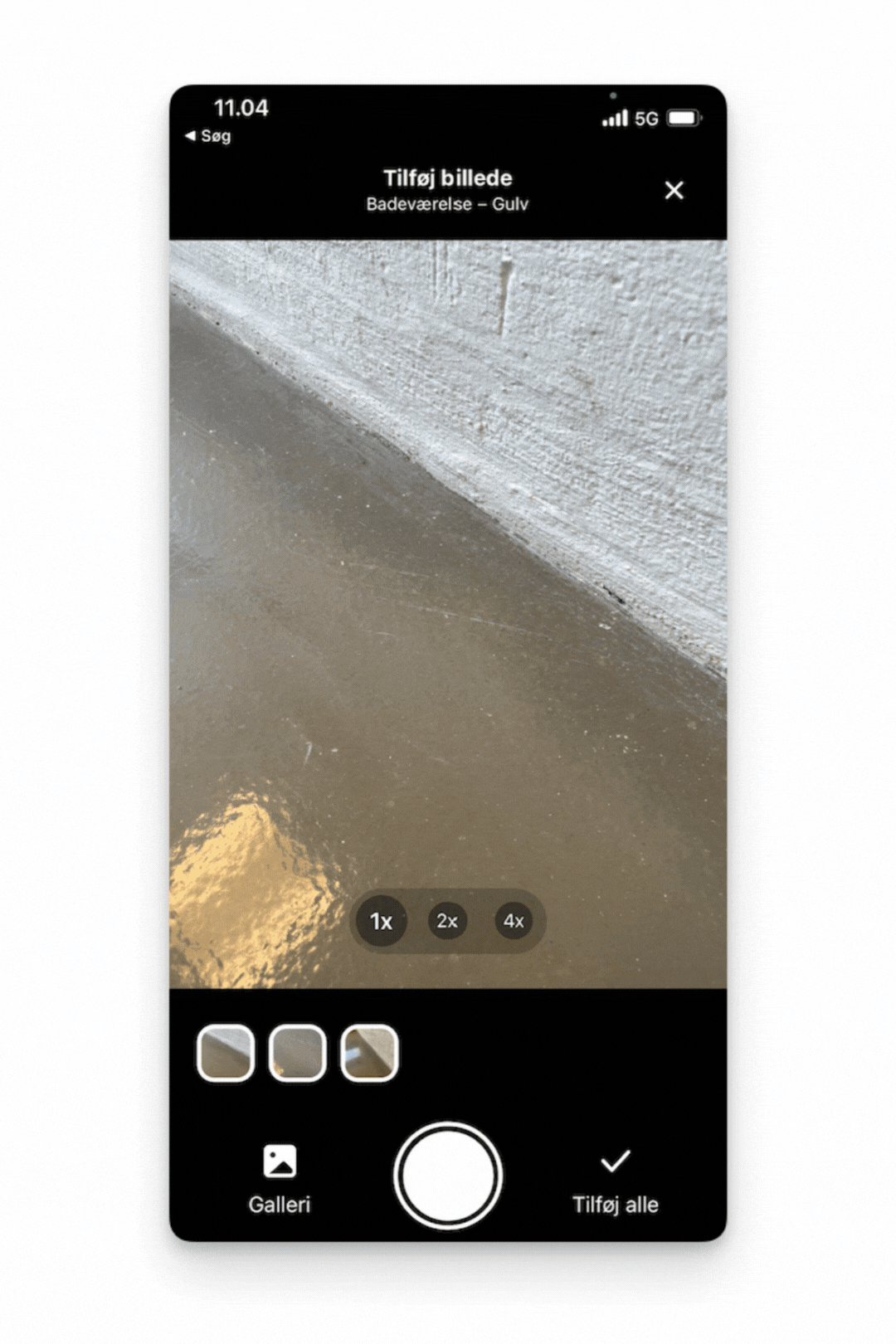 If you attach a high amount of photos to your moving inspection, you may experience that the system takes a little time before the photos are registered.
BoligPortal's Moving Inspection App requires an active internet connection before you can use it. If you have a weak or unstable internet connection during the move-in inspection, as is often the case in concrete buildings, you may experience longer loading times when adding photos.